This PBCrave Cookie Nookie Peanut Butter Review explains all that you need to know about this peanut butter.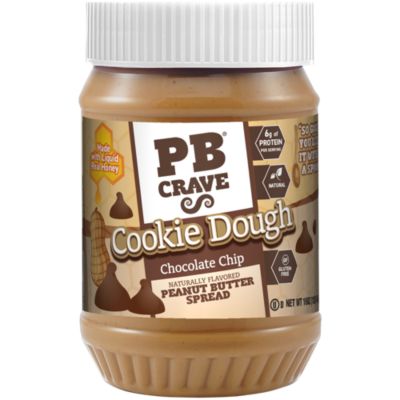 This combo though… unreal. It's practically peanut butter flavored cookie dough. When I first tried it, I didn't actually expect to taste the cookie dough flavor, but it certainly comes through. Beware – this is addictive. No wonder they call it PBCrave.
Taste: 7/10. Similar to cookie dough, with a hint of honey and dominate PB flavor. This one tastes the most like traditional peanut butter, compared to all the others. However, it still has a pronounced cookie dough flavor – can't go wrong with PB and cookie dough!
Flavor Accuracy: 8/10. Like I said, this baby tastes like cookie dough. It even has a similar texture to cookie dough.
Texture: 9/10. Smooth, creamy, goey and has little bits of soft chocolate chips swirled in. It is much thicker than most PBs, and comes out in gobs, not so much a spread. It does melt well though when warmed up.
Macros: 14g fat, 8 carbs, 7g protein
Quality: 2g fiber. 5g sugar. Made with organic honey and without artificial flavors. Kosher Certified.
Price per jar: $5 – when bought in a pack of 4.
Price per serving: $.43
Buy it exactly where I do! PB Crave Cookie Nookie Peanut Butter