Look no further than here for Nuts 'N More Birthday Cake Peanut Butter Review.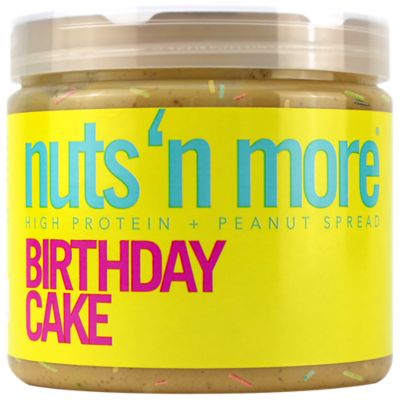 If it's your birthday and you're looking for something to celebrate with, skip the champagne. This Nuts 'N More flavor will do the trick! And probably with fewer calories and more protein than champagne. Not to mention, way more fun.
Or, if it's not your birthday, you're still going to like partying with this one.
Here is the Nuts 'N More Birthday Cake Peanut Butter Review!
Taste: 8/10. The flavor is sweet, with a cake undertone. There is not an overpowering cake flavor, so don't expect to be diving into a birthday cake when you try it. However, I appreciated the modesty of the flavor, while still maintaining a peanut butter prominence.
Flavor Accuracy: 8/10. Most certainly, you can taste the cake flavor. There are even little bits of sprinkles in there (so festive). Birthday Cake Peanut butter is accurate – there is an equal balance of peanut and cake flavors.
Texture: 9/10. Smooth, traditional peanut butter texture. Infused with crunchy bits of sprinkles. Great spreadability. Hardly mixing required.
Macros: 11g fat, 9g carbs, 11g protein.
Quality: 2g of sugar, 3g of sugar alcohol. 2g of fiber. 138mg of sodium. Gluten free.
Price per jar: $11.99
Price per serving: $0.85
Buy it exactly where I do! High Protein Birthday Cake Peanut Butter